Speaking of (free transfers) transfers, Antonio Rudiger has opened up about the reasons behind his impending Chelsea exit. "Unfortunately, my contract negotiations began to get difficult last fall," he said in an article for The Players' Tribune.
"Business is business, but if you don't hear any news from the club from August to January, the situation becomes complicated. After the first offer there was nothing for a long time."
Klopp confirms Origi exit
The season isn't even over yet and there are already left, right and center transfers happening. Following the news that Divock Origi will join Milan this summer, Klopp said: "I expect Div to get a special welcome or farewell or whatever. He is and always will be a Liverpool legend for me [and] one of the most important players I've ever had.
"That sounds completely odd given the amount of games he's had but he is and has been a pure pleasure to work with… it's not over just because it's the last Premier League game now and yes, he deserves all the good thoughts we can somehow generate for his future and wherever he goes he will be 100% successful.
"[He's] an outstanding player, [an] outstanding boy. Everyone on the team loves him because he was just a laid back guy and a really lovely guy. So yeah, it's going to be a tough moment when he actually leaves.
"I remember an incredible number of things when I think about Div: important goals, injuries… bad injuries and all those things, ups and downs. He's undoubtedly a Liverpool legend."
Dortmund separates from Rose
Marco Rose arrived at the Westfalenstadion last year after an impressive spell at Borussia Mönchengladbach. As it turns out, he'll go down as a one-season wonder (of a kind).
He was sacked by Dortmund after a campaign in which they snaked their way to second in the Bundesliga, eight points clear of Bayern Munich at the summit, and failed to win a silver. BVB was eliminated in the group stage of the Champions League, in the round of 16 in the Europa League and in the round of 16 in the DFB Cup, and also lost to Bayern in the final of the DFL Supercup.
Given her contract extension, Miedema has provided additional insight into her reasons for staying at Arsenal and her ambitions for the years to come. "I joined Arsenal five years ago because I wanted to help this club rise," she said. "Once we won the league and in recent years we have been close. Last season we were in the race until the last day, but in the end Chelsea won.
"I told Arsenal that we have to keep developing and we absolutely have to win trophies. If not, I have to go one step further. I'll be 26 in a year, so there's still a lot of possibilities. But my focus is now completely on Arsenal." You can read more about Miedema here.
As the pitch invasion discourse continues this morning, the latest following Thursday night's incursion at Goodison Park is that police are investigating an altercation between Patrick Vieira, the Palace manager, and a fan. More about this here.
Miedema extends Arsenal stay
The good news for Arsenal this morning is that Vivianne Miedema has signed a new contract with the club.
Miedema has scored 117 goals in 144 games since joining from Bayern Munich in 2017 and is an absolute phenomenon to say the least. "I think the most beautiful thing about the game is building something with a team and with people around you that you really want to be with," she said after announcing she will remain in north London.
"I feel like I have that at Arsenal. I feel like winning the title with Arsenal means a lot more to me at the moment than winning the title with any other club. And of course I hope to achieve that with Arsenal."
The final weekend of the Premier League is upon us. There's something calming about that, isn't there? The season must end in order for it to start again in August and rise like a phoenix from the ashes. A time to be born, a time to die, and a few weeks in between as footballers jibe piña coladas on a yacht moored off Mykonos before jetting off to their commercial duties on a pre-season tour of Florida fulfill.
However, before we start thinking about lucrative Orlando friendlies, there is still the small matter to decide the title fight and the relegation battle. Why is one a race and the other a fight? We don't make the rules, these are the appropriate metaphors as set out by the Football Writers' Association. At the top of the table, Manchester City are leading Liverpool as they prepare to host Aston Villa at the Etihad. Jurgen Klopp's four-time chasers welcome Wolves to Anfield knowing that a win combined with a draw or defeat will be enough for their title rivals to crown them English champions for the second time in three seasons.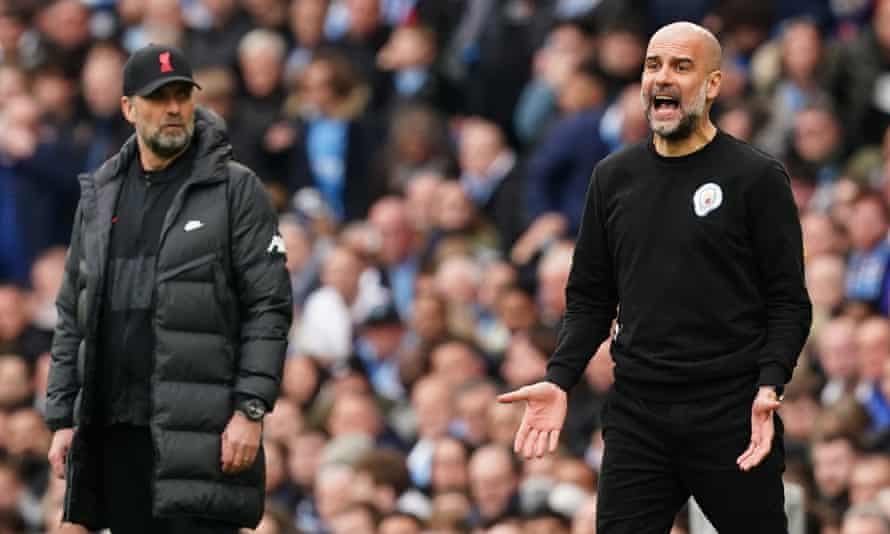 At the other end of the table, either Leeds or Burnley will need to fall screaming through the Premier League trapdoor. Sorry again, but when it comes to stereotypes, we don't make the rules. Burnley's 1-1 draw with Villa on Thursday night set them apart on goal difference from Jesse Marsch's men and gave them a slight advantage ahead of the season-defining game against Newcastle at Turf Moor. Leeds travel to Brentford looking to improve Burnley's result or return to the Championship in the top flight after just two seasons.
Then there's the top four clash, where Tottenham are ahead thanks to last week's 3-0 win in the north London derby and their nemesis' subsequent self-destruct at St James' Park. Mikel Arteta has to aim for a win against Everton, safe after their chaotic comeback against Crystal Palace, and hopes Antonio Conte doesn't outsmart Norwich's Dean Smith or The Project™ suffers a significant setback and Arsenal will extend their Champions League break up at least six years.
Elsewhere, West Ham could swap places with Manchester United if they beat Brighton away and Ralf Rangnick ends his tenure with a suitably stunning result against Palace. The Hammers have a superior goal difference meaning even a draw for Rangnick's side at Selhurst Park would allow West Ham to swap the Europa Conference League for the Europa League with a win.
As for dead gums, Chelsea, secure in third place, hosts of relegated Watford and Leicester meet Southampton in a close-fought midfield encounter at the King Power Stadium. Today is all about the coaches, followed by pre-match press conferences and preparations. The Scottish Cup final, Women's Champions League final and League One play-off final are all scheduled for this weekend, as are the Serie A and La Liga finals.