HELEN — Two evening Keith Sell tournament pool games and the already ongoing Butte Calgary game were canceled due to heavy rain on Sunday afternoon.
Storms ripped through the area around 6:30 p.m., dumping heavy rain and rendering the field unplayable.
Bozeman defeated Saskatoon and Great Falls defeated Glacier in the morning/early afternoon games. The weather disrupted the morning game, but play resumed after almost two hours.
The game was stopped in the Butte-Calgary game in the bottom third of the third for lightning and about 20 minutes later the rain came.
Bozeman, Saskatoon, Great Falls and Glacier all finished pool play on Sunday, but a revised, round-robin style schedule will be used to finish the tournament on Monday.
Monday's schedule is as follows:
9 am – Calgary Bucks vs. Glacier Twins
11:30 a.m – Saskatoon Giants vs. Calgary Cardinals
14 o'clock – Great Falls Chargers vs. Calgary Cardinals
4:30 p.m – Butte Miners versus Bozeman Bucks (game for third place)
19 o'clock – Helena Senators vs Winners (Tournament Championship Game by Keith Sell)
Sunday games
Great Falls Chargers 17, Glacier Twins 14
Glacier stalled seven runs late in the sixth – all with two outs – but ultimately failed in a comeback attempt.
Great Falls hung in the first inning with a six, anchored by Lane Seim's fifth home run of the year – a three-run shot over the left field fence.
Glacier scraped back to within one run in the second and followed en route to fifth with three.
The Chargers scored five goals in game six, just enough to withstand Glacier's furious comeback.
"I thought we came out and swung the clubs well — 20 hits," Great Falls head coach Tony Forster said. "Hit a lot of balls hard and scored 17 runs. We made five mistakes defensively. We've been in this lull a bit for the last week and a half, two weeks of swinging the racquet. I'm happy to see that and I'm confident we can keep this momentum going."
The Great Falls at-bats were held in check against Saskatoon on Saturday but broke out of Calgary for 11 runs in a run decision. That went through Sunday with six different Chargers collecting multi-hit games.
"We had good ideas and stuck with it a bit," said Forster. "I think we feed each other. Nate Fowler started the game with a run down the middle and we just kept going after that.
The game's first seven batters reached Great Falls. Tyler Marr doubled in front of Seim, who spun a 0-2 fastball and sent it over the left field wall.
"I just had a two-strike approach, widened my stance, and got to a pretty low count of how many fouls I hit," Seim said. "I was just hoping to finally catch one and I think I did."
In a game with 31 total runs from 33 hits, 11 different players accumulated at least two hits. Eight players, between the two teams, drove in multiple heats.
Eighteen combined runs were scored in the fifth and sixth innings.
Great Falls led 8-5 towards fifth. Each team scored nine runs in the last two innings of the game.
Landon Lockwood and Wesley Gilcher each amassed four hits for Great Falls. Brinkley Evans had three hits and four RBI.
"I think the offensive did pretty well today," said Seim. "Everyone hit the ball, we had a good approach. A lot of people went to the middle. That was about what we were hoping for."
Mikey Glass, Josiah Ruther, Kellen Kroger, Owen Shilling and Jake McIntyre all had two-hit games for Glacier.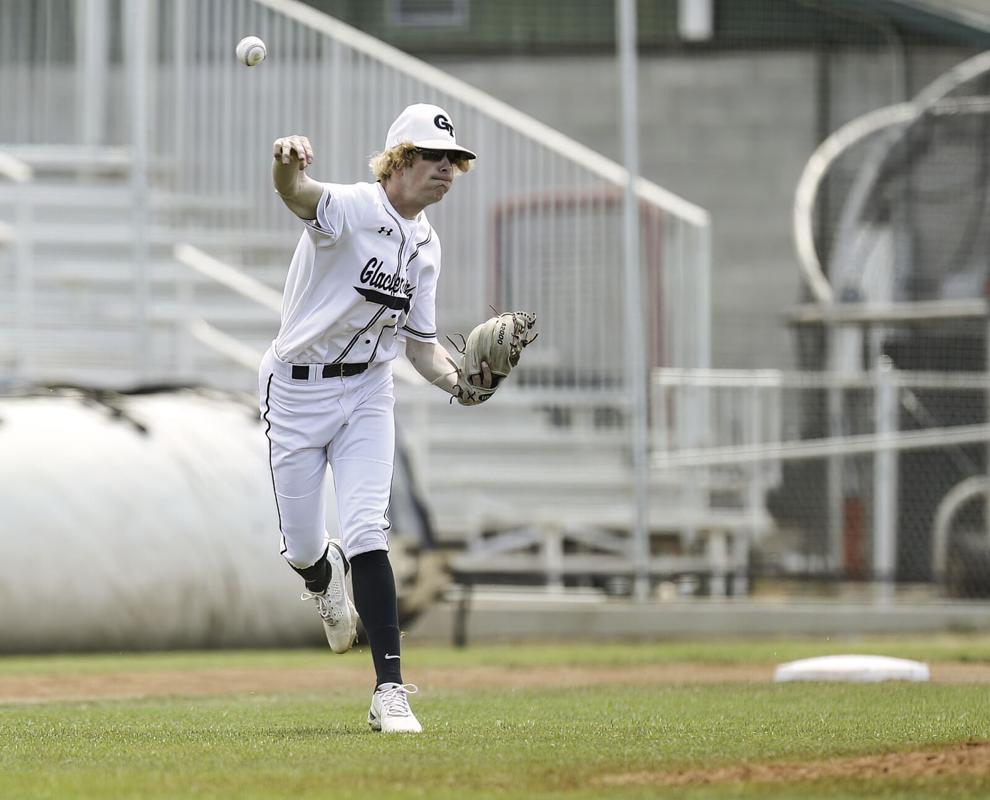 Bozeman Bucks 19, Saskatoon Giants 2
Austin Cooper and Bryce Hampton each drove in four runs and six different Bucks enjoyed multi-RBI games.
Bozeman scored seven times in the first round and led 8-2 when it rained. The Bucks went 11 runs after the delay and hit the run rule with a seven-run third.
"Better shots, more aggressive," Bucks head coach Sean Potkay said of his team's effort. "Obviously there were a lot of walks in that game that helped. The biggest were the hits with loaded bases and runners in goal position."
Hampton walked bases loaded in the first, singleed in the second, walked bases re-juiced in the third, and doubled in the fourth. He also scored three times.
"It feels great," Hampton said of his 4-RBI day. "I didn't hit as well as I would like, but today I'm being helped. It feels good. See the ball well. I ran a few times but had a few nice hits."
"We just attacked and took advantage of the fastball early in the count when they left a spot over center."
Max Matteucci was 3-for-3 with three RBI, a walk and two runs scored for Bozeman. Andrew Western finished 3-for-4 with two RBI and Dillon Farne was 2-for-2 with two walks, three RBI and four runs scored.
Chris Wrench allowed two runs to one hit in two innings on the mound. Dillon Coleman threw two innings of one-hit baseball from the bullpen.
"Of course, the hardest thing is when you have a conference game to start the tournament — losing that one," Potkay said. "Since then we've recovered and played well."