Mikel Arteta was surprised by Gabriel Jesus' quick adjustment to life at Arsenal and is enjoying capitalizing on the Brazilian's 'contagious' mentality.
The Gunners start the new Premier League season away at Crystal Palace Friday night soccer – keep living Sky Sports – with Jesus expected to make his competitive debut for the club following his £45m transfer from champions Manchester City.
As Jesus shoulders the newfound burden of anticipation his arrival in north London has sparked, Arteta urged patience, but the manager insists early signs are promising.
Friday, August 5 at 6:30 p.m

Kick-off 8:00 p.m

"When you bring in top players, coming from top clubs where they've been extremely successful over the years, you'll expect that expectation," said Arteta.
"The role Gabriel has here will be very different from the role he had at his previous club, that needs some adjustments and some time.
"He's done fantastically well, we're surprised at how quickly he's done it, but we have to share that responsibility.
"He's a tremendous talent, a player with such an infectious mentality and he'll give us a lot but in the end it's a team contribution."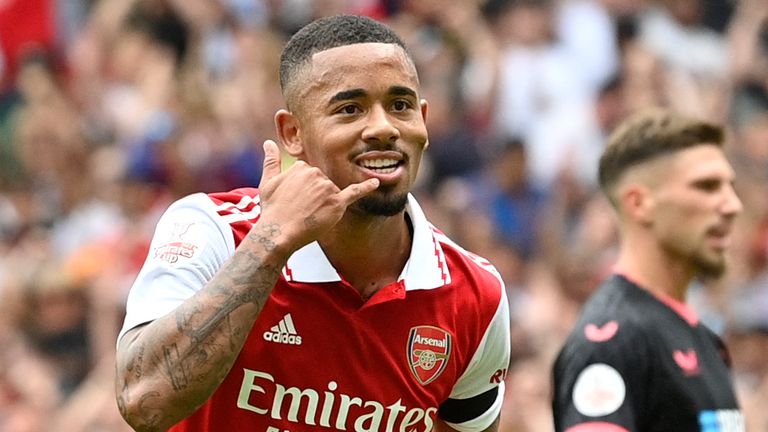 Arteta's position at Arsenal came under intense scrutiny early last season after newly promoted Brentford inflicted the first of three defeats in their first three Premier League games.
However, after a summer spending spree and a 100 per cent record from five preseason games, the Spaniard insists preparations for this season will ensure the Gunners get off to the best possible start this time.
"It's different, everything that happened before this game [at Brentford] was quite strange and unique, the preparation, the pre-season that we had," he added.
"Now it's a different context, we're really excited, we're looking forward to the new season and we'll try to start in the best possible way. That's how we've done it with our preparation."
Asked if his Arsenal team is finally in his picture after the summer's recruitment campaign, Arteta added: "It's always been my team, these are our players and we always intended to get the best out of them.
"It's true that we've scaled down and changed the roster massively over the last two windows and you feel like the players we have are now more specific and better for the way we want to play. "
Arteta: Arsenal remain 'very active' in the market.
In addition to the arrival of Jesus, the Gunners secured the services of Oleksandr Zinchenko, Fabio Vieira, Marquinhos and Matt Turner this summer, and Arteta revealed there could be more arrivals and departures before the September deadline.
"We're really active, as you can see, coming and going," he revealed. "As you can see everything is still open, it's a long window.
"A lot has happened, it's incredible how much business clubs have made in the Premier League and it shows how competitive it's going to be this season, it's not going to stop. Some players have to go, others have to change and everything is still open."
Arsenal's last trip to Selhurst Park was the catalyst for their costly end-of-season decline, culminating in a top-four result and Champions League qualification at the hands of rivals Tottenham.
Arteta hopes lessons have been learned from the 3-0 defeat in April, adding: "They showed last season how tough and difficult they are to beat and how consistent they were at home, especially against them big teams.
"They got some great results, the result against us. Hopefully that day we learned our lessons because we had 30 minutes that day that were nowhere near the standards we needed and we have a price for that paid."
Arteta continued: "We're all excited, we've had the pre-season we wanted, we've been well organised, we've had good results, good performances, good preparation but now the ball is rolling against a Premier- League team and we know what to expect.
"But it's true, we have enough energy and ambition to have a successful season and we have to show that on the pitch tomorrow night."