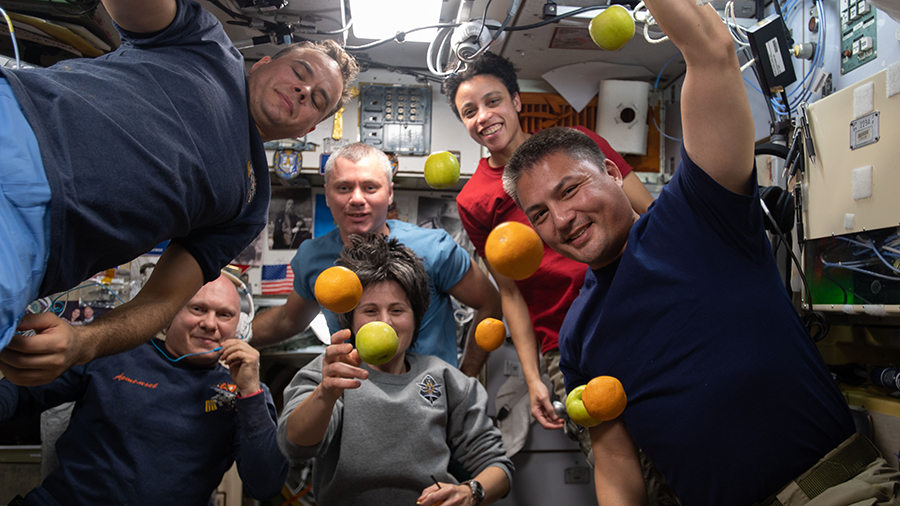 Space gardening and the human digestive system were at the top of Wednesday's scientific agenda aboard the International Space Station. The seven residents of Expedition 67 also worked throughout the day filming their activities, inspecting the station's hardware and testing a new robotic arm.
Space farming is a way to keep astronauts healthy on future missions to the Moon, Mars and beyond without having to rely on packed cargo missions that travel further into space. The XROOTS experiment at the Orbiting Lab investigates the cultivation of radish and mizuna greens using hydroponic and aeroponic techniques. NASA flight engineer Bob Hines nurtured these plants today, checking seed cartridges and wicks to make sure they're germinating and growing.
Hines also inspected and photographed the condition of the windows in the Destiny lab and Kibo lab modules. NASA flight engineer Kjell Lindgren continued testing a headset that enables real-time, high-resolution 3-D holograms for immersive and innovative communication and research techniques. He also swapped out the hard drives on a station laptop.
Flight Engineers Jessica Watkins and Samantha Cristoforetti teamed up today to inspect and clean the US module hatch components. Watkins also checked, inspected, and stowed hardware in the Tranquility module and Quest airlock. Cristoforetti checked smoke detectors in the Columbus laboratory module and tested a special garment that can wirelessly monitor an astronaut's health.
All four astronauts also filmed their activities this week in preparation for training future crews for upcoming station missions. The quartet recorded, annotated and downlinked videos documenting the operation of training equipment, network communications equipment and the stowage of cargo aboard the space station.
The absence of gravity affects the human body in many ways. Scientists observe station crew members during long-duration missions to understand and counteract the undesirable effects of weightlessness. After breakfast, Commander Oleg Artemyev and Flight Engineer Denis Matveev once again scanned their digestive tract with an ultrasound machine. Researchers are investigating how organs and vessels in the gastrointestinal tract adapt to space travel.
Robotics tests are still ongoing this week in the Russian segment of the station. Roscosmos flight engineer Sergey Korsakov continued to study and film the European robotic arm, the station's third and newest robotic manipulator, and its maneuverability on the Nauka multipurpose laboratory module.
NASA and Northrop Grumman are still working on a plan for Cygnus to attempt another reboost attempt as early as Saturday, June 25, which would result in Cygnus potentially leaving the station next Tuesday, June 28. The plan will be discussed with International Space station partners this week and a forward plan is expected as early as Thursday.
The reboost is intended to provide Cygnus with an improved capability for station operations as a standard service for NASA.