But two drummers quoted in a Rolling Stone article today said their comments were taken out of context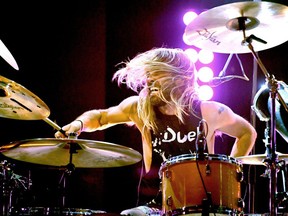 Reviews and recommendations are unbiased and products are independently selected. Postmedia may earn an affiliate commission from purchases made through links on this site.
content of the article
Friends of Taylor Hawkins said he was "exhausted" from the Foo Fighters' touring schedule before he died.
content of the article
The 50-year-old drummer was found dead in his hotel room in Colombia in March and now his friends say he has spoken to frontman Dave Grohl about his displeasure at the band's relentless concert commitments.
Pearl Jam drummer Matt Cameron told Rolling Stone magazine: "He had a heart-to-heart talk with Dave and, yes, he told me he 'can't fucking take any more' – those were his words.
"Well, I guess they reached an agreement, but it seems like the touring schedule got even crazier after that…
"He tried to keep up. He just did everything to keep up and in the end he couldn't keep up."
Teenage Essex guitarist fulfills his dream of taking the stage with the Foo Fighters

1000 die-hard Italian fans are lured to their city by the Foo Fighters with the epic "Learn to Fly".
content of the article
And a friend, who wished to remain anonymous, added: "Finally talking to Dave and really telling him he can't and won't do this anymore was liberating for him.
"That cost damn balls. It took me a year to find the courage to do it."
However, a rep for the band told Rolling Stone that Hawkins never addressed such issues.
The announcer said: "No, there was never a 'heart to heart' or any meeting on the subject – with Dave and [Silva Artist Management]…
"He never informed Dave and [management]' of anything like that.
The Rolling Stone report also said the drummer had passed out on a plane in Chicago in December 2021 – which the band's spokesman denied – but Red Hot Chili Peppers star Chad Smith said the incident was a turning point for his friend .
content of the article
"He just said he was exhausted and collapsed and they had to pump him full of IVs and stuff," Smith said. "He was dehydrated and all sorts of stuff."
Smith said his fellow drummer told him, "I can't do this anymore."
Both Smith and Cameron today released statements apologizing to the Foo Fighters for their comments about Hawkins in the Rolling Stone feature and distancing themselves from the article.
Cameron said: "When I agreed to participate in the Rolling Stone article about Taylor, I thought it would be a celebration of his life and work. My quotes were taken out of context and formed into a narrative I never intended. Taylor was a dear friend and a next-level artist. I miss him. I have only the deepest love and respect for Taylor, Dave and the Foo Fighters families. I am truly sorry to have participated in this interview and I apologize that my participation may have harmed those whom I hold only with the deepest respect and admiration."
Smith said, "Taylor was one of my best friends and I would do anything for his family. I was asked by Rolling Stone to share some memories of our time together, which I think would be the loving tribute he deserves. Instead, the story they wrote was sensational and misleading, and had I known that I would never have agreed to participate. I apologize to his family and musical friends for any pain this may have caused. I miss Taylor every day."
In contrast, singer Sass Jordan, another source, linked the article on her Facebook page.