With the Women's Euros in full swing last week, glorious, sweaty celebrations took place in a dedicated secure room for female and non-binary fans.
With the Women's Euros in full swing last week, glorious, sweaty celebrations took place in a dedicated secure room for female and non-binary fans.
It's 10pm at the Stag's Head in Hoxton, East London, and it's hot. Sweat runs down your head and hot into your eyes. Despite the heat, nobody dares to leave their place or the pieces of wall they have found to lean on. The 83rd minute of the quarter-finals of the 2022 Women's Championship between England and Spain is being played on huge screens throughout the pub. It's getting tense.

29 minutes has passed since Spain scored the first and only goal of the game so far. 29 agonizing minutes as the dozens of mostly women and non-binary people who packed the pub come to terms with the idea that maybe, just maybe, it's not coming home. As England push the field up, gasps and cheers watch bums fall off their seats as the crowd raise their hands to the ceiling. Shouts: "Come on" Fill the space as the ball falls to Emma Toone, who slams it into the back of the net.
The place is erupting. Hugs and shouts of joy are exchanged during the last six minutes of the game. With just minutes left before extra time England scores again – a Georgia Stanway screamer – and the pub fills with cheers. When the final whistle finally blew, someone dropped Gala's "Freed from Desire" and the crowd jumped and danced in glorious, sweaty celebration.
In many ways the heat, the noise, the beer, the joy and the danger were all par for the course in watching an England game in an East End pub. But this was different. Last week's screening was part of a partnership between Stags Head and Baller FC to show every game of the Women's Euros.

I spoke to Rachel, one of the founders of Baller FC, earlier that evening when the pub was empty. She told me how the group came about. "We are a group of friends who watch a lot of football together. Neither of us plays football for any team, but we've been following England for quite some time."
"We were at the last Women's World Cup and one of the best things was meeting the fans and the other teams and celebrating with them afterwards. What we found was that in women's tournaments it was quite difficult to watch a game anywhere that wasn't England. So our idea was to find a venue and come to them with a proposal to show every game of the Women's Euros. They said: "We don't know anything about women's football but we love the idea." So we made an agreement with them and that's how we are here."


Since the beginning of July, the group has held demonstrations of each game. What started as an idea between a few like-minded friends has quickly blossomed into something much bigger. "It's getting busier," Rachel says, pausing to greet one of the many slowly pouring through the door and filling the venue. "England games are the busiest but we still get a really good number of people coming to the other games as well. We had Americans downstairs, Swedes downstairs, we have a big group of Germans recently, some Dutch fans. We've had some fans from those countries living in London, but also fans who are here for the tournament. If they're not looking after their team, they've heard what we're doing and then they come down."

For Selena, another of the founders, creating a dedicated social space around women's football was one of the most important parts of the project. "It can be quite intimidating to go to the pub alone to watch football," she says. "The idea was to create a place where you can come down and know that the game is being played and that you have people to watch it with. It was actually quite surprising that not only do fans come from other countries to watch games, but that they come down on their own and just start chatting with other people."
"What we found both in the games and in the screenings is that it's a very different vibe to watch men's football." Selena continues. "It's not antagonistic. It's not aggressive. It's a lot more welcoming and less tribal. Sounds a bit cheesy, but everyone started lifting each other up. I think because they are fans of women's football – and therefore mostly queer women – and you kind of see the importance of positive communities. So we did a lot of things like collaborating with queer creators and artists to try and share the platform."
For many, the thought of walking into a pub full of screaming, screaming men is a nightmare. It depicts a world that often excludes women or queer people — or actively attacks them for not belonging. They can be a place of trauma, aggression and pain that prevents people from truly engaging in the beautiful game and all the ups and downs that come with it. That's why Baller FC is here – to find the joy, beauty and friendship in football that many find difficult to access.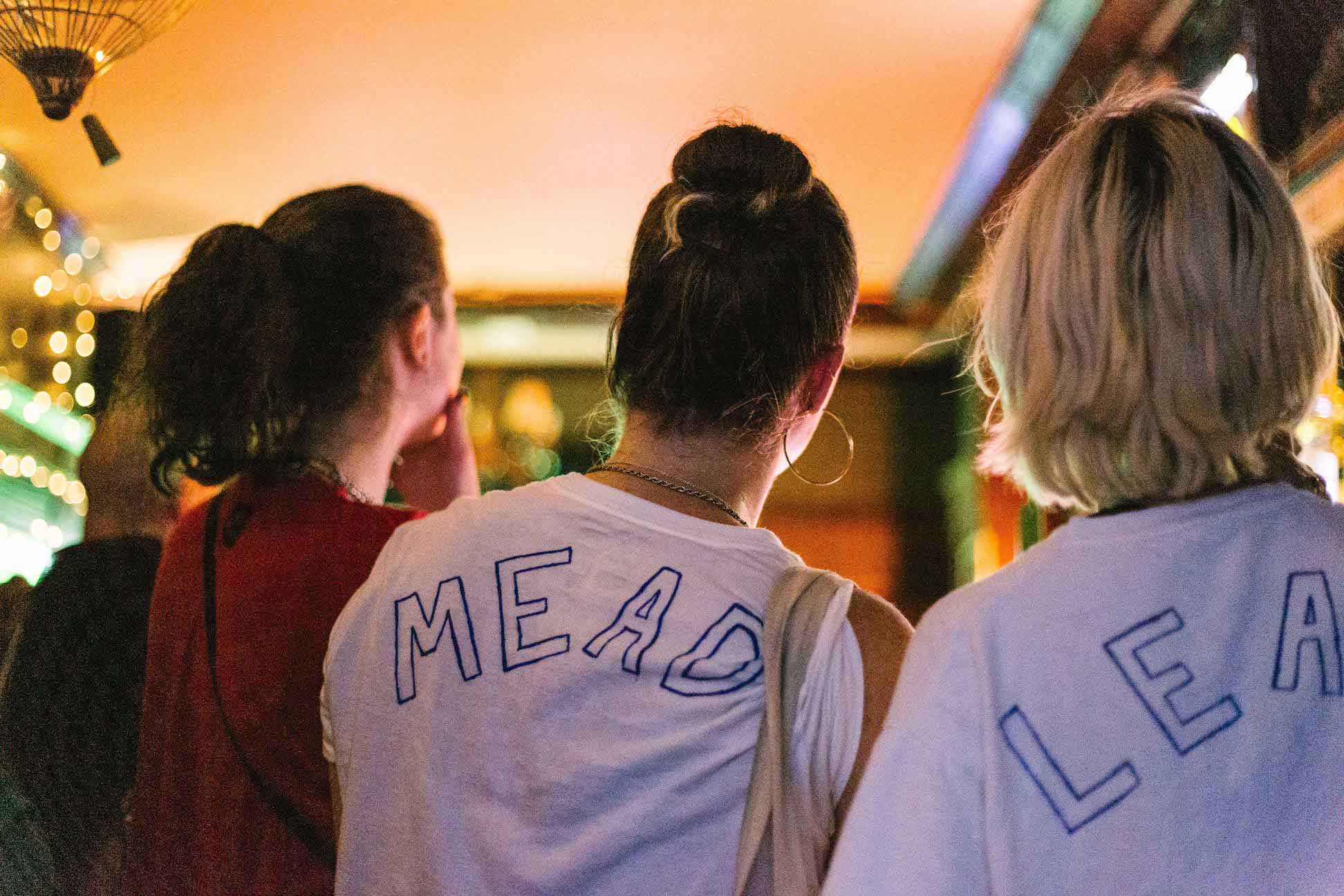 The group commissioned local artist Emma Hayden to draw portraits of five players who they believed would dominate the tournament that year. On the wall in the pub's main events area is a portrait, also of Hayden, of England manager Sarina Weigman. The lustful moans that ripple through the room every time someone stops the clock or later sees it on the big screen appeals to the clientele's overwhelming demographics. Really aware of this, the group has sought to use the space to uplift members of the often unrepresented or ignored community.

"We had people DJing after the games who had never done it before but wanted to try it because it's such a difficult area to get into," Rachel tells me. "We also held a variety of workshops. Last Sunday we had a zine making workshop. All zines go to the Bishopsgate Institute archives".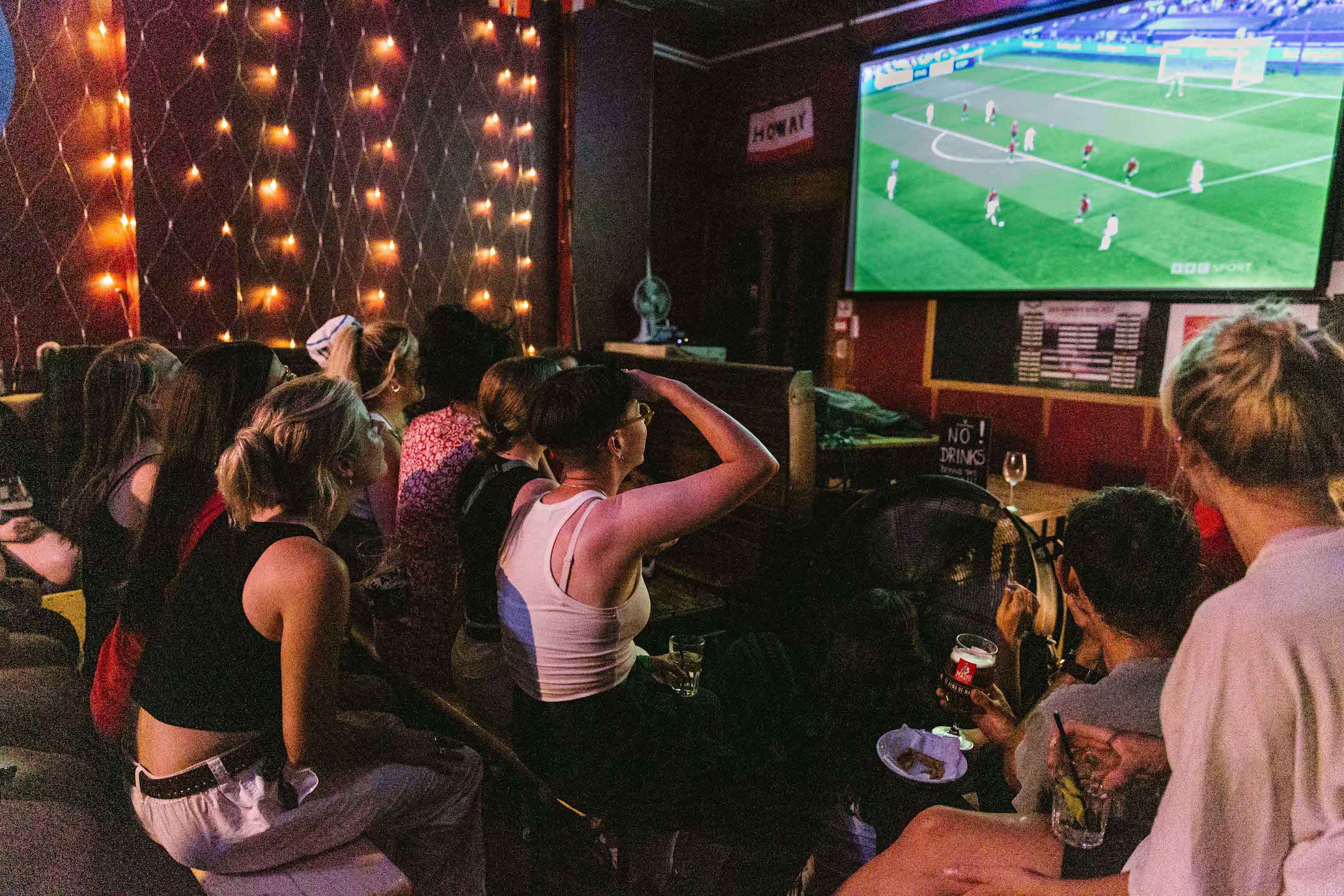 With every passing screening, it's clear that there's an appetite for the space Baller FC has created. They have already set their sights on the upcoming women's Super League season as well as the men's World Cup in Qatar later this year – although the latter is not without its complications. "It's quite problematic that they can't guarantee the safety of LGBTQ fans who want to travel to the event," says Selena. "So many people died during construction – it's hard to keep your balance. People will still want to see it and it's important to create a space like this to make that possible, but there are still questions about whether we should support it – or whether we should try to turn it into something positive make.

It's that kind of consideration that makes Baller FC so special. More than just a group of football fans gathering to enjoy themselves and watch England bring it home, the performances have more to do with creation from this home – a safe space and community for people to come together through sport, unity and joy. For Rachel, it's the culmination of years of work.
"Baller FC unites everything we are passionate about. We've been hosting parties for a while and love the experience. It was so nice to throw [together] everything we are passionate about – art, music, football, people and creating a space that is inclusive and happy. It fills me with joy every time I see it."

Ben Rauch is huck's Politics and Activism Editor. Keep following him Twitter.
Follow Emily Jayne Nolan on Instagram.
Did you like this article? As huck on Facebook or continue to follow us Twitter and Instagram.