MESSAGES | FEATURES | PREVIEW | EVENTS
originally published: 05/18/2022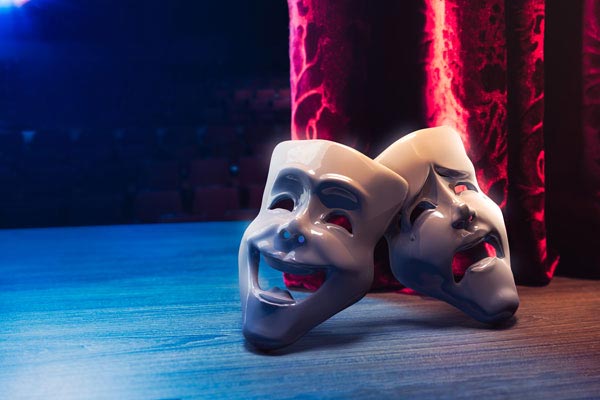 (JERSEY CITY, NJ) – Staffers at Jersey City Theater Center (JCTC) have transferred the remaining programs scheduled for the 2022 New Play Festival to an online format. Due to COVID-19 affecting some team members, productions scheduled for week 3 (Thursday, May 19, 2022) and week 4 (Thursday, May 26, 2022) are now available via Zoom at www.jctcenter.org be retrieved.
"COVID has become an element of our world, forcing us to take extra precautions to protect our supporters," said Olga Levina, Artistic Director of JCTC. "Our team wants to ensure all of our producers, patrons and artists remain safe as they close our festival with quality virtual presentations. We encourage attendees who wished to visit us in person to join us on Zoom to experience our final performances, which we are both very proud to premiere. Until we can guarantee a safe reopening of our theater, we are committed to maintaining our daily operations through online and hybrid formats."
The festival, which began on May 5, 2022 and will last until Thursday, May 26, focused on the timely theme of STRENGTH and kicked off with five short plays presented online. The virtual plays were to be followed by three full weeks of live performances at JCTC Studios, including the final two full-length plays, which are now presented online. In all, the festival will present 10 new plays by 11 emerging playwrights, collectively representing the United States, Canada, the United Kingdom, Slovenia and Romania. All events include a Q&A and discussion with the playwrights; Admission is free with a suggested donation of $25.
This event is part of the New Jersey Theater Alliance 2022 Stages Festival made possible through support from the New Jersey State Council on the Arts, a partner agency of the National Endowment for the Arts; Bank of America; The Horizon Foundation for New Jersey; OceanFirst Foundation; New Jersey Historical Commission.
The remaining shows taking place online include the following:
2022 New Play Festival Week Three: Short Series – Thursday, May 19, 2022 at 7:30 p.m. Online: click here. The third week of the New Play Festival features a series of short plays directed by Lynne Marie Rosenberg and Michelle Chan. After the performance there will be a question and answer session and discussion.
Advertise with New Jersey Stage for $50-$100 per month. Click here to get more information
---
A universal question by Kathleen Maule Holen (United States, Hays, KS)
Two lovers and a bear by Tjaša Ferme (Slovenia and USA, New York, NY)
The Men of the Mechanical Age by Ioana Cosma (Romania, Pitesti, Arges)
Unconventional by Kristin Cotts (United States, Washington, DC)
---
Week 4 of New Play Festival 2022: Little did I know by Doc Andersen Bloomfield – Thursday, May 26, 2022 at 7:30 p.m. Online: click here. The New Play Festival 2022 ends with the full-length play, Little did I know, written by Doc Andersen-Bloomfield (UK, Oxford and US), and directed by Jessica Silsby Brater, Ph.D. After the performance there will be a question and answer session and discussion.
Narrated from Yarl's Wood Detention and Removal Center (for Women Asylum Seekers) in England, Aaneseh recounts her horrifying and at times amusing journey as a teenage refugee pretending to be a boy and all those she met on her journey from Syria hits England. "Little Did I Know" is a realistic drama about the difficult lives of refugees in search of freedom from war, terror and dictatorship. It focuses on the terrifying and at times even humorous journey of a young girl pretending to be a boy to secure freedom and peace for her family. She eventually reaches England, only to be held in a women's detention and deportation center for asylum seekers.
---
More information and ticket reservation can be found at www.jctcenter.org and www.seetickets.us/jctcenter. Accessible accommodation for these events is available upon request.
Jersey City Theater Center (JCTC) is a non-profit 501(c)(3) arts organization dedicated to inspiring conversations about important issues of our time through art. Co-founded by executive producer Olga Levina, a Belarusian immigrant, the Jersey City Theater Center (JCTC) produces and presents universal yet locally relevant works that emphasize social justice and human rights.
Since 2006, JCTC has provided a platform where all artistic voices can be heard. When we share stories through art, we spark meaningful dialogue that leads to greater understanding and respect. And as a result, we build better communities together.